Jesko Fezer
| Talk ___ 27.05.2021 | 18.00
GUESTS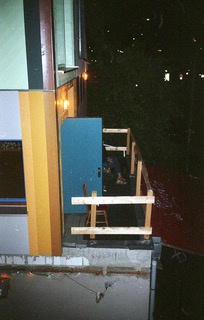 Pudel Process

Jesko Fezer introduces the weak planning and partisan design of the Golden Pudel Club in Hamburg. Over a period of four years, this legendary burnt-down club was rebuilt through various joint efforts. In this process, a situative encounter unfolded between city planning, counter- and subcultural activism, and urban policy proceedings, which took shape in the concrete design practices of process planning, design consulting, aesthetic interventions, uncoordinated independent planning, and DIY construction and collaboration.


Pudel Prozess

Jesko Fezer stellt die schwache Planung und parteiische Gestaltung mit dem Golden Pudel Club Hamburg vor. Über vier Jahre hinweg wurde in diversen Zusammenarbeiten der legendäre und abgebrannte Club wieder aufgebaut. In diesem Prozess fand eine situative Auseinandersetzung mit Stadtentwicklung, gegen- und subkulturellem Aktivismus und stadtpolitischen Verhandlungen statt, die in den konkreten gestalterischen Praxen der Prozessplanung, der Gestaltungsberatung, der ästhetischen Intervention, der unkoordinierten Eigenplanung sowie des Selbstbaus und des Zusammentuns Form fand.


Jesko Fezer works as a designer. In various collaborations he explores the social relevance of design practice. In cooperation with ifau (Institut für angewandte Urbanistik) he realizes architectural projects. He is co-founder of the bookstore Pro qm in Berlin and part of the exhibition design studio Kooperative für Darstellungspolitik. He serves on the board of the German Society for Design Theory and Research (DGTF), is a member of the Hamburg Art Commission, and co-edits the Bauwelt Fundamente series and the Studienhefte für problemorientiertes Design. He is a Professor of Experimental Design at the University of Fine Arts of Hamburg.

Jesko Fezer arbeitet als Gestalter. In je unterschiedlichen Kooperationen befasst er sich dabei mit der gesellschaftlichen Relevanz entwerferischer Praxis. In Kooperation mit ifau (Institut für angewandte Urbanistik) realisiert er Architekturprojekte, er ist Mitbegründer der Buchhandlung Pro qm in Berlin sowie Teil des Ausstellungsgestaltungsstudios Kooperative für Darstellungspolitik. Er gehört dem Vorstand der Deutschen Gesellschaft für Designtheorie und -forschung an, ist Mitglied der Hamburger Kunstkommission, Mitherausgeber der Bauwelt Fundamente Reihe und der Studienhefte für problemorientiertes Design. Er ist Professor für Experimentelles Design an der Hochschule für Bildende Künste Hamburg.

For further information, please see: https://www.jeskofezer.de/


Weitere Informationen:
https://www.jeskofezer.de/