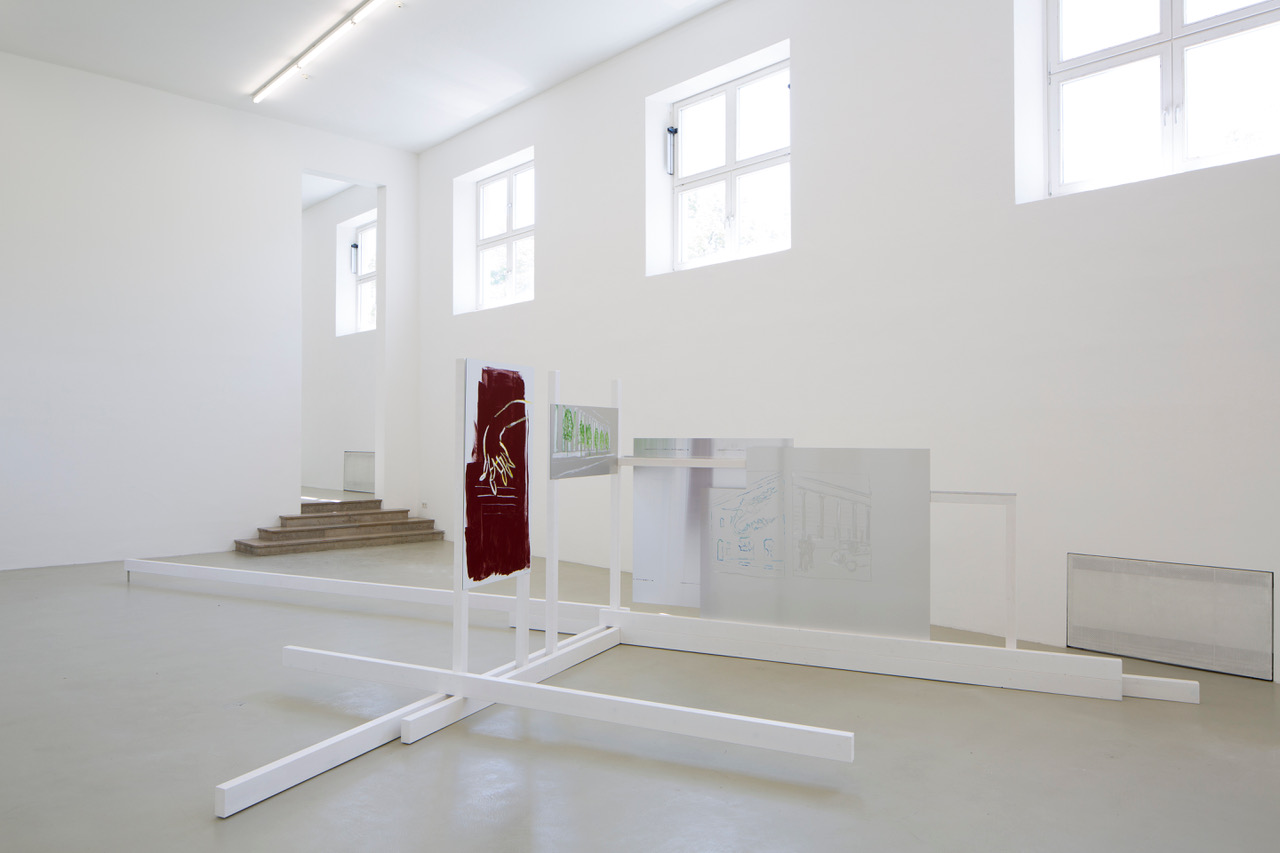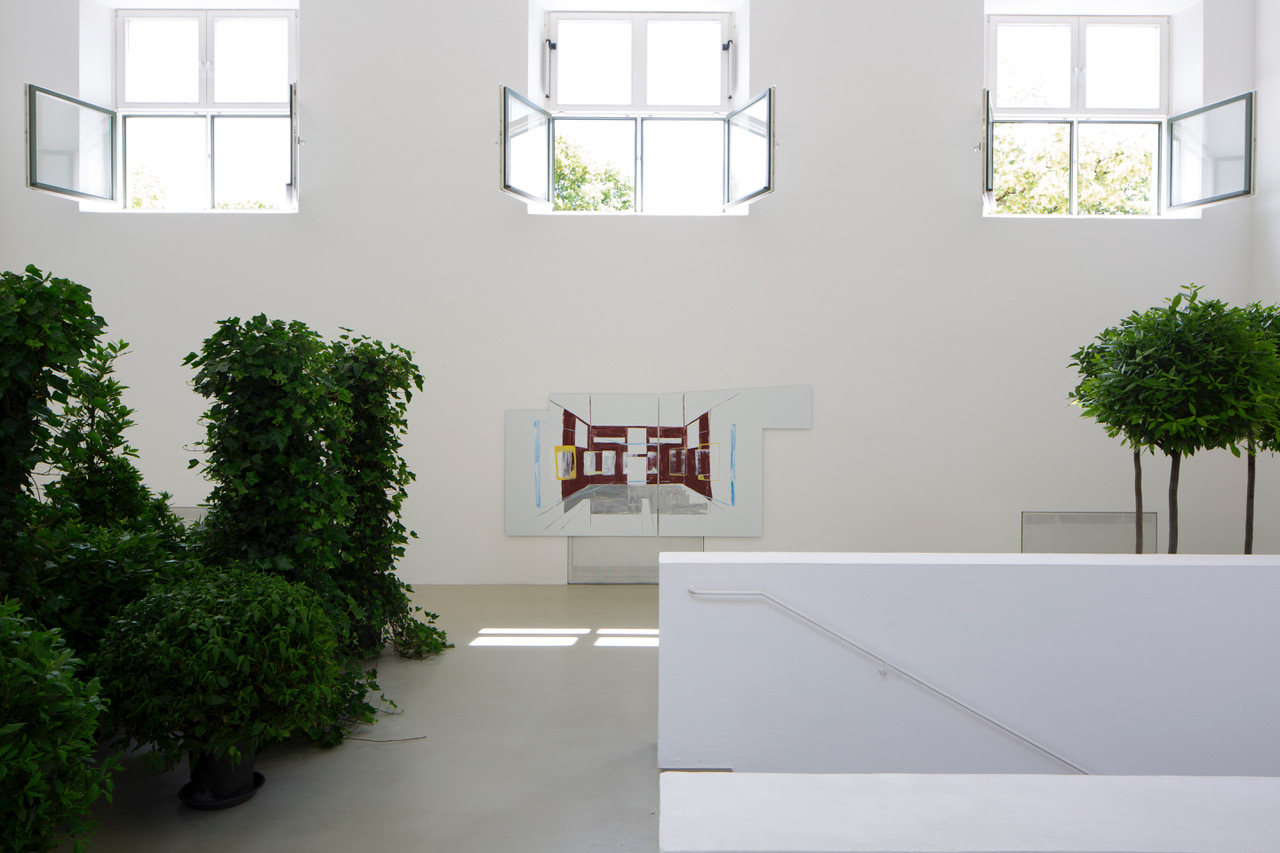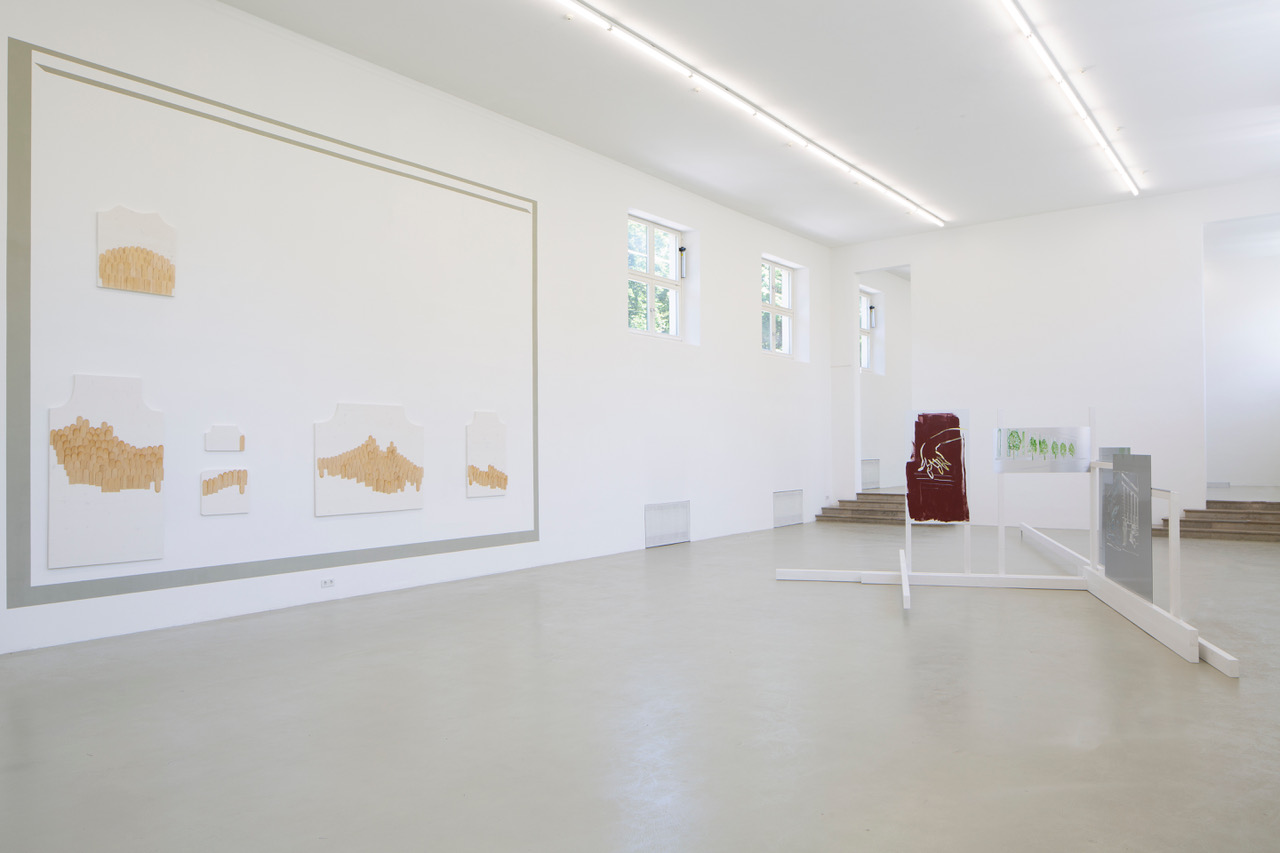 Auf Fassaden schauen oder Die vierte Wand der dritten Pädagogin
June 26 – August 20, 2021


Auf Fassaden Schauen oder Die vierte Wand der dritten Pädagogin
26. Juni – 20. August 2021

In her practice, Maximiliane Baumgartner negotiates artistic and pedagogical models, in which concepts of education, urban planning, and public space can be traced. Her solo exhibition Auf Fassaden schauen oder Die vierte Wand der dritten Pädagogin (Looking at Facades or The Fourth Wall of the Third Pedagogue) addresses different spatio-temporal layers in and around the Kunstverein. The notion of the façade functions as an extended figure of thought: the Kunstverein's exhibition space is seen as a public site that stands in frictional relation to its surroundings and history. Adapted to the scale of the institution, the outlines of the façade of the Hof-Atelier Elvira appear on the wall. The building was commissioned by the women's rights activists and couple Anita Augspurg and Sophia Goudstikker in 1889. Located just a few steps away from the Kunstverein, the photo studio with its female protagonists formed an important site of feminist self-assertion in the city. In 1937, when the "Große Deutsche Kunstausstellung" (Great German Art Exhibition) was held at Haus der Kunst and the "Entartete Kunst" (Degenerate Art) exhibition organized by the National Socialist Party was shown in the expanded rooms of today's Kunstverein, the "cleansing" of Munich led to the brutal demolition of Hof-Atelier Elvira's façade. In the exhibition, the history of this site and its architecture is traced through the medium of painting, pointing to tensions between historiography and the politics of memory. In this context, the question is also to be explored to what extent a solidarization with past urban spatial practices, in the sense of a "networking across times," is possible.


Maximiliane Baumgartner verhandelt in ihrer Praxis künstlerische sowie pädagogische Modelle, in der sich Vorstellungen zu Stadtplanung und öffentlichem Raum nachvollziehen lassen. Ihre Einzelausstellung Auf Fassaden schauen oder Die vierte Wand der dritten Pädagogin setzt sich mit verschiedenen Zeit-Raum-Ebenen in und rund um den Kunstverein auseinander. Der Begriff der Fassade fungiert hierbei als erweiterte Denkfigur: Der Ausstellungsraum des Kunstvereins wird als öffentlicher Ort verstanden, der im Reibungsverhältnis zu seiner Umgebung und Geschichte steht. Im auf die Institution angepassten Maßstab sind die Konturen der Fassade des Hof-Atelier Elvira nachgezeichnet, welches im Auftrag der Frauenrechtsaktivistinnen Anita Augspurg und Sophia Goudstikker von August Endell 1889 gebaut wurde. Es handelt sich dabei um einen Ort an dem, wenige Meter entfernt vom Kunstverein in der Von-der-Tann-Straße 15, Frauen als Protagonistinnen das kulturelle sowie informelle Stadtgeschehen in Form von urbaner widerständiger Praxis mitgestalteten. Als die "Große Deutsche Kunstausstellung" 1937 im Haus der Kunst stattfand und im selben Jahr die von der nationalsozialistischen Partei organisierte Ausstellung "Entartete Kunst" in den erweiterten Räumen des heutigen Kunstvereins gezeigt wurde, führten die "Stadtsäuberungen" zum brutalen Abriss der Fassade. In Form der Re-Imagination seiner Fassade wird auf das Spannungsfeld zwischen Geschichtsschreibung und Erinnerungspolitik verwiesen.Dabei soll auch der Frage nachgegangen werden, inwieweit eine Solidarisierung mit vergangenen urbanen Raumpraxen, im Sinne einer "Vernetzung über Zeiten hinweg", möglich ist.

As a supplement to the exhibition, Baumgartner has compiled a selection of footnotes, captions, quotations, and adaptations of archival material that reveals the sources and voices in her own artistic research. The footnotes can be viewed and used via the following website:
www.aktionsraeume.org
Ergänzend zur Ausstellung hat Baumgartner einen Apparat von Fußnoten, Bildlegenden, Zitaten und Adaptionen von Archivmaterial erarbeitet, der die Quellen und Stimmen künstlerischer Forschung aufzeigt. Der Fußnotenapparat ist hier einseh- und benutzbar:
www.aktionsraeume.org
Maximiliane Baumgartner is a visual artist and art pedagogue. In her interest in (counter-) publics and their historical contexts within an urban space, she develops (often in collaboration) temporary action spaces. In doing so, she is interested in the use of painting as an expanded field of action. In 2015 she initiated the art project Der Fahrende Raumand programmed it in changing collaborations from 2015–2019 in Munich. In 2020, the publicationIch singe nicht für Bilder schöne Lieder (I don't sing beautiful songs for pictures) on her work was published by Motto Books in collaboration with the Neue Essener Kunstverein and the Kunstverein München. Her work has most recently been shown in solo exhibitions at Kunstverein München (2021), Neue Essener Kunstverein, and Stadtgalerie Bern (2019), among others, and in group exhibitions at Galerie Kaufmann Repetto in Milan and New York (2021).


Maximiliane Baumgartnerist Bildende Künstlerin und Kunstpädagogin. In ihrem Interesse an (Gegen-) Öffentlichkeiten und ihren historischen Zusammenhängen innerhalb eines städtischen Raums, entwickelt sie (oft in Kollaboration) künstlerische Aktionsräume. Dabei interessiert sie der Einsatz von Malerei als erweitertes Handlungsfeld. 2015 initiierte sie das Kunstprojekt Der Fahrende Raumund programmierte es in wechselnden Kollaborationen von 2015–2019 in München. 2020 erschien in Zusammenarbeit mit dem Neuen Essener Kunstverein und dem Kunstverein München die Publikation Ich singe nicht für Bilder schöne Liederzu ihrer Arbeit beim VerlagMotto Books.Ihre Arbeiten waren zuletzt u.a. in Einzelausstellungen im Kunstverein München (2021), im Neuen Essener Kunstverein und in der Stadtgalerie Bern (2019) zu sehen, sowie in Gruppenausstellungen in der Galerie Kaufmann Repetto in Mailand und New York (2021).


Since 2019, she has been researching and teaching as an artistic-scientific associate at the Department of Art and Music at the University of Cologne.
Seit 2019 forscht und lehrt sie als künstlerisch-wissenschaftliche Mitarbeiterin am Department Kunst und Musik der Universität zu Köln.