For the annual exhibition 2020, a cross-class group of 7 artists formed to make the Club Rote Sonne their own exhibition space. Rhizome-like, different approaches intertwined within the framework of a site-specific exploration of image and spatial politics within the disused club space. The empty shell of the space, stripped of its function, was contrasted with the absence of its original meaning.

Zur Jahresausstellung 2020 bildete sich eine klassenübergreifende Gruppe aus 7 Künstler*innen, die sich den Club Rote Sonne als Ausstellungsort zu eigen machte. Rhizomartig griffen dabei unterschiedliche Ansätze im Rahmen einer ortsspezifischen Auseinandersetzung mit Bild- und Raumpolitiken innerhalb des stillgelegten Clubraums ineinander. Der leeren und ihrer Funktion entrissenen Raumhülle wurde das Fehlen ihrer ursprünglichen Bedeutung entgegengehalten.
The longing for normality reinterprets space and material, brings back movement and equally leads back to the consensus of togetherness and creates a place of abstract reminiscences of what was and shall be again.
Die Sehnsucht nach Normalität interpretiert Raum und Material neu, bringt Bewegung zurück und führt gleichermaßen zurück auf den Konsens des Miteinanders und schafft einen Ort abstrakter Reminiszenzen an das, was war und wieder sein soll.
Nina Alverdes | The voices of former guests can still be heard in some places and are rehabilitated in a performative revival, re-shaping our surrounding space.





Nina Alverdes | Die Stimmen der ehemaligen Gäste sind mancherorts noch zu hören und werden in einem performativen Wiederbelebungsversuch rehabilitiert, wodurch sich unser Umraum neu ausgestaltet.



Zarah Abraham | Graphics in the form of frottages reveal the likeness of the walls, rubbing off on club posters and tip slips and merging with the bar in a memory of earlier days.



Zarah Abraham | Graphiken in Form von Frottagen geben das Konterfei der Wände frei, reiben sich ab an Clubpostern und Trinkgeldzettel und verschmelzen mit dem Tresen in einer Erinnerung an frühere Tage.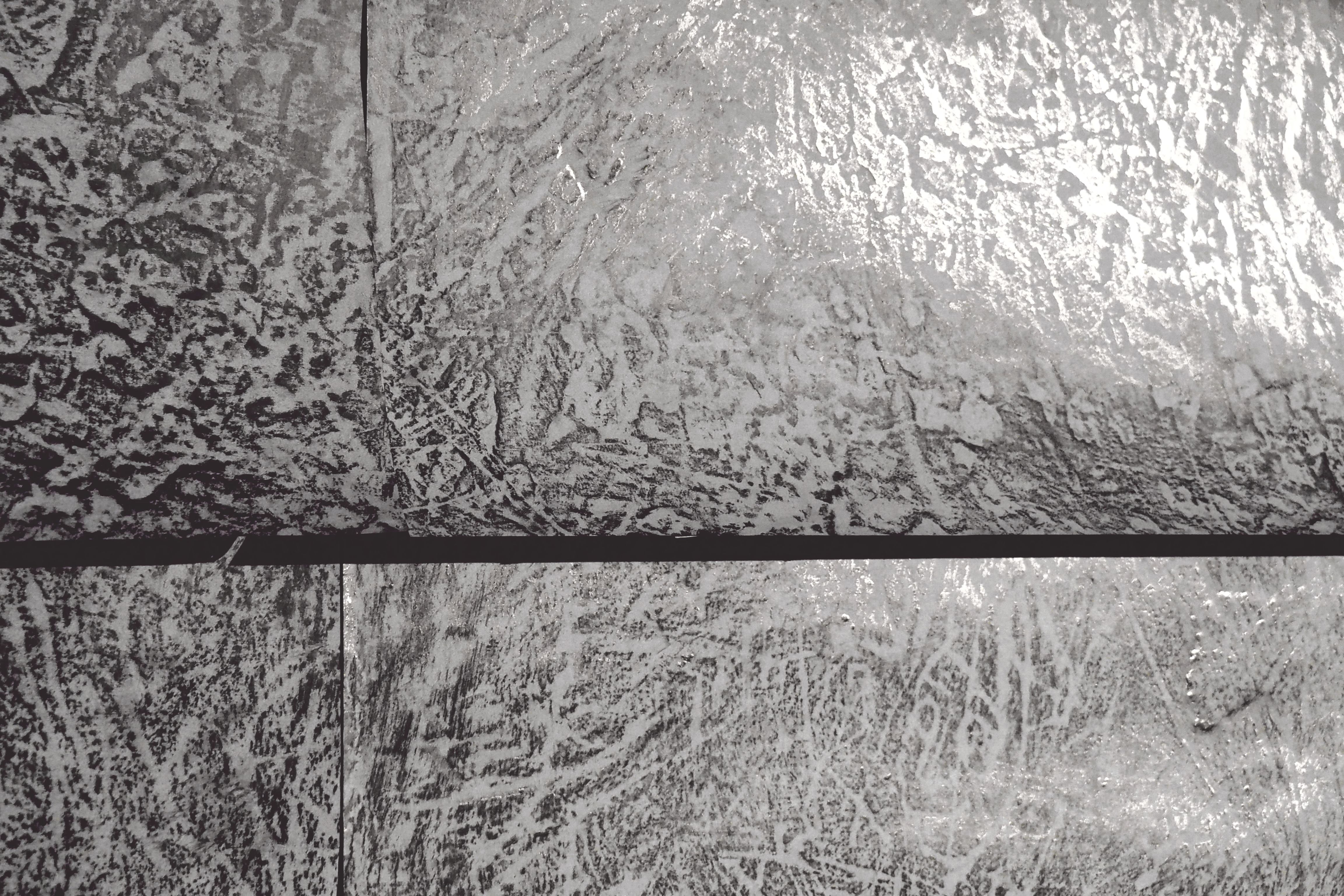 Kathrin Herold | The beat that is stuck in the walls reverberates and is found again in polyrhythms (sound installation with sound capsules), a single-celled organism grows over a stylised map of the world and pulsates in the background in parallel as a kind of parable of the growing solidarity during the lockdown




Kathrin Herold | Der Beat, der in den Gemäuern steckt, hallt nach und findet sich in Polyrhythmen wieder (Klanginstallation mit Schallkapseln), ein Einzeller wächst über eine stilisierte Weltkarte und pulsiert im Hintergrund parallel dazu als eine Art Parabel der wachsendenden Solidarisierung während des Lockdowns




Benjamin Mathias | Basic frequencies waft as standing waves and make the space physically experienceable again through vibration in an echo of physicality.








Benjamin Mathias | Grundfrequenzen wabern als stehende Wellen und machen den Raum durch Schwingung wieder physisch erfahrbar in einem Echo der Körperlichkeit.